Field Elementary
From a Blue Ribbon Schools Award nomination to handing out IB diplomas, January was a big month for Heights schools!
As a longtime Heights resident, and a Top Producing Realtor here for 18 years, I've learned a great deal about what draws homebuyers to this area, and why it's become one of the most sought after parts of Houston. It seems that much of the excitement about the Heights stems around features like our dynamic restaurant scene and inviting parks and trails, but for many serious homebuyers, it's really the quality of our schools that have them seeking out the area. With my two boys passing through schools here in the Heights, I've had the opportunity to see firsthand just how commendable our education system is, so I definitely get it! And I see it steadily improving each year. Many buyers still want to be zoned to Harvard Elementary or Travis Elementary, and for good reason (those are two phenomenal schools!), but these days, the Heights has plenty to offer beyond just those two schools.

In fact, it was two other Heights schools that were grabbing headlines in January. The first was another one of our promising local elementary schools, Field Elementary. It was announced in mid-January that Field is one of only two HISD schools (and 26 in all of Texas) to be nominated for the national Blue Ribbon Schools award! This prestigious annual award is given to public and private elementary, middle, and high schools where students perform at a very high level or where the school has made tremendous progress to close achievement gaps among subpopulations. The school now must complete a rigorous application process through the U.S. Department of Education, and the national winners of the award will be announced in September. I'll be rooting for Field ES to go home a winner, but even to be nominated is such an impressive feat and honor!

Heights High School was the other area school in the news in January. On January 8th, the school recognized its first class of International Baccalaureate (IB) diploma recipients, presenting 18 former students (now college freshmen) with their IB diplomas. The IB diploma is a hard-earned distinction and it provides recipients with major benefits when it comes to their college education. Recipients attending a Texas university technically enter college as a sophomore (thus saving a year's worth of tuition), while many colleges in Europe offer recipients automatic admission. As one special example of the profound impact the IB diploma can have, the education of one of the students in this first class of diploma recipients has, in a way, come full circle. She started her education at Harvard Elementary and is now attending Harvard University!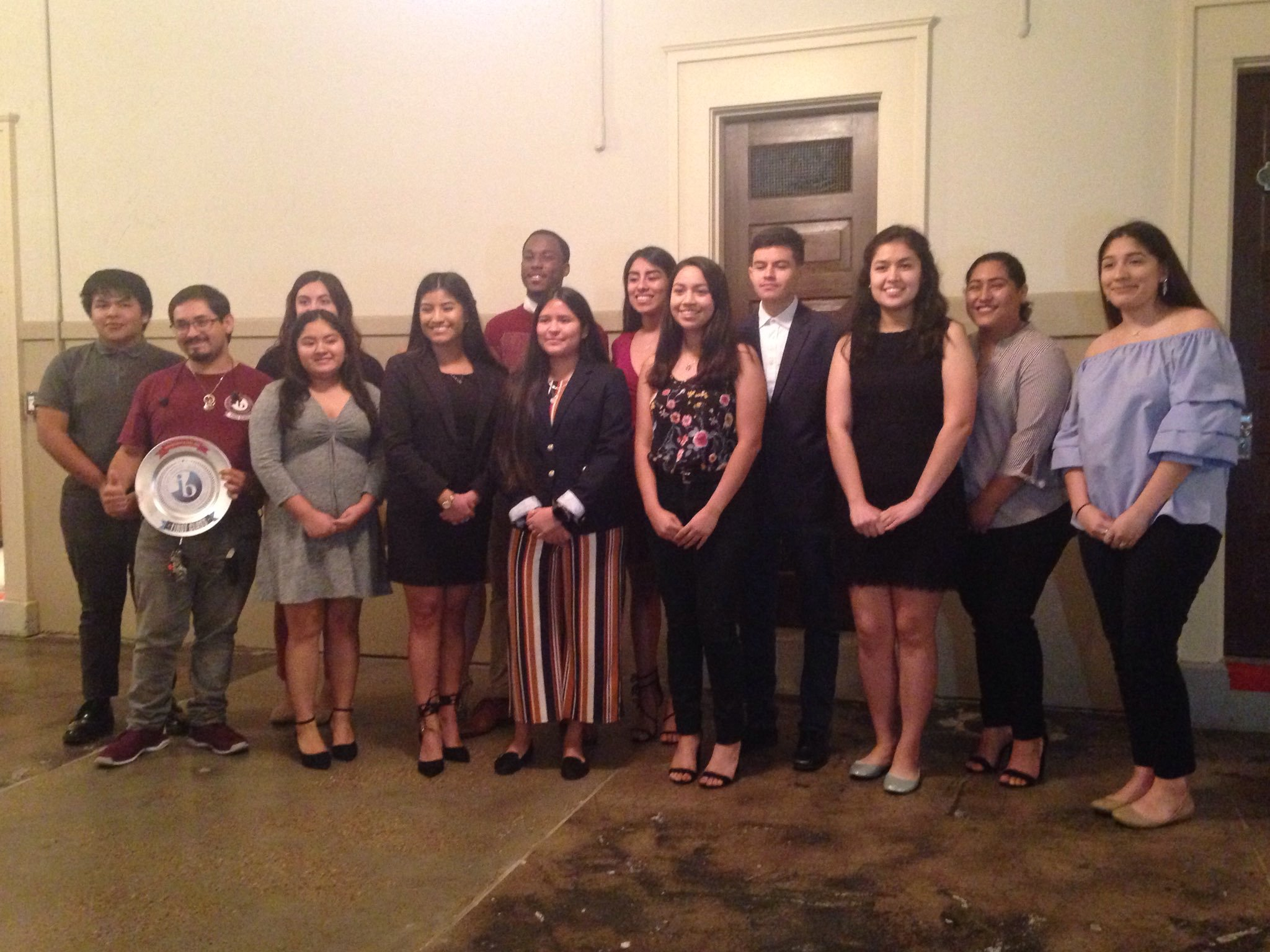 Heights High's first class of IB diploma recipients
The passing out of these diplomas was not only the culmination of many years of hard work by the students, but it also signalled the successful achievement of a stated goal for Harvard ES, Hogg Middle School, and Heights HS to become just the second feeder pattern in HISD to fully implement the IB programmes (Primary Years, Middle Years, Diploma) and have its schools authorized as World Schools. It was former Harvard ES Principal Kevin Beringer who initiated this whole process back in 2007 by implementing the IB Primary Years Programme at Harvard, making it the first IB school in the Heights.

What a spectacular month for all of these Heights schools!
Buying or selling a home or just want to Heights schools? Give me a call at 713.829.3052 or email me at cynthia@cynthiamullins.com.
……………………………………………………………………………………………………………………………………………………
Houston condominiums, Houston high-rises, Houston home builders, Houston home prices, Houston home rentals, Houston home value, Houston homes, Houston homes for rent, Houston homes for sale, Houston house, Houston house value, Houston houses, Houston housing, Houston listings, Houston MLS, Houston neighborhoods, Houston new homes, Houston properties, Houston property, Houston real estate, Houston real estate agents, Houston real estate associates, Houston real estate brokers, Houston real estate companies, Houston real estate firms, Houston real estate information, Houston real estate listings, Houston real estate market, Houston real estate schools, Houston real estate service providers, Houston real estate solds, Houston real estate values, Houston real estate, Houston realtors, Houston relocation, Houston schools, Houston single family homes, Houston sold home prices, Houston sold homes, Houston subdivisions, Houston town homes, Houston heights real estate housing market homes for sale buying selling inner loop properties Houston Texas TX OPEN Houses 1545 Heights Boulevard, Houston, TX 77008 77007 77009 Houston heights realtor Woodland Heights Norhill Sunset Heights HISD Hogg Middle School IB Program Harvard Elementary Hamilton Middle School Reaga