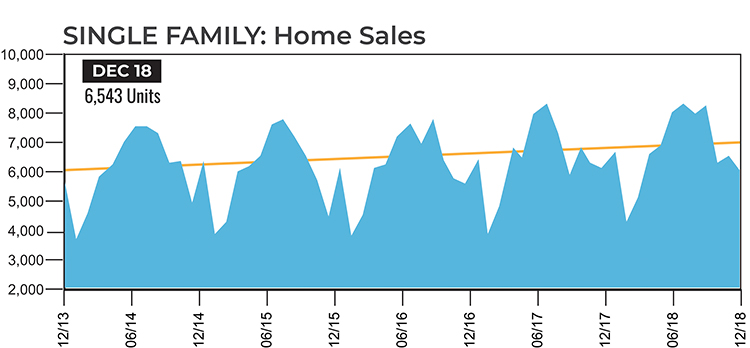 December was a down month for Houston real estate, but the city's full-year 2018 numbers were record-setting.
2017 was an incredibly resilient year for Houston real estate, as even with the devastating and disruptive effects of Hurricane Harvey, the year set a new record for home sales. Following that impressive performance, there was a certain level of optimism about the market going into 2018, but with outstanding numbers pretty much across the board, it seems safe to say 2018 exceeded expectations. In addition to the market producing another record-setting number of single-family home sales, median and average home prices increased as well.
HAR's latest report covers the 2018 numbers as a whole, but it also touches on December's stats, which were a bit of a mixed bag. December single-family home sales decreased 4.1 percent, year-over-year, from 6,825 to 6,543. Prices, both median and average, rose to all-time December highs, with median increasing 3.4 percent to $240,000 and average climbing 4.7 percent, up to $306,314. At 3.5-months supply, inventory at month's end was higher than the 3.2-months supply of a year before, but still below the current national supply of 3.9-months.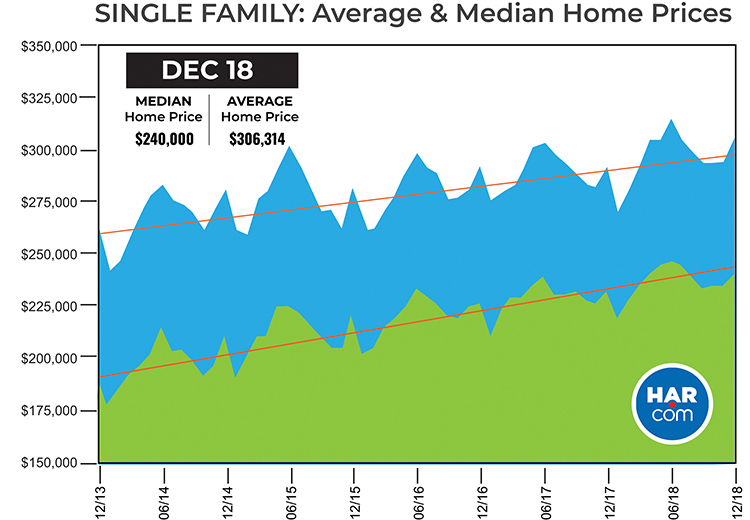 While December was a bit sluggish, it was 1 of only 4 months in 2018 that didn't produce a year-over-year increase in single-family home sales. On the backs of the 8 months that did generate positive home sales (including Houston's greatest month of sales ever in June), a new record of 82,177 homes were sold in 2018. That amounts to a rather significant 3.8 percent increase over the previous record for sales set just one year before. 2018 median price for single-family home sales was $237,500, or 3.3 percent higher than the 2017 median price. Average sales price in 2018 nearly reached $300K, rising 2.6 percent to $298,982. The higher prices and record-setting sales combined to create a total dollar volume of a little over $28 billion, which was a whopping 21.5 percent higher than 2017, and another all-time high for Houston.
There's reason for continued optimism about Houston real estate in 2019, as the city's economy is projected to be quite strong once again this year. I had the pleasure of attending Dr. Ted C. Jones' 2019 Economic Forecast Presentation the other week, and he pointed to a variety of economic factors—from an increase in small business jobs to the city excelling in the highest paying jobs—that should help keep Houston real estate humming right along in 2019. Dr. Jones' presentation was very interesting, engaging, and full of quality info about real estate and the economy, both on a local and national level. Don't hesitate to reach out if you want the full scoop on that! How successful Houston real estate is in 2019 though likely will be tied to inventory. As new HAR Chair Shannon Cobb Evans explains, "our market is still challenged in terms of housing inventory, which is something that truly needs to improve in 2019 to ensure that real estate remains a vibrant player in the overall Houston economy."
Buying or selling a home or just have questions about the market? Give me a call at 713.829.3052 or email me at cynthia@cynthiamullins.com.
………………………………………………………………………………………………………………..
Houston condominiums, Houston high-rises, Houston home builders, Houston home prices, Houston home rentals, Houston home value, Houston homes, Houston homes for rent, Houston homes for sale, Houston house, Houston house value, Houston houses, Houston housing, Houston listings, Houston MLS, Houston neighborhoods, Houston new homes, Houston properties, Houston property, Houston real estate, Houston real estate agents, Houston real estate associates, Houston real estate brokers, Houston real estate companies, Houston real estate firms, Houston real estate information, Houston real estate listings, Houston real estate market, Houston real estate schools, Houston real estate service providers, Houston real estate solds, Houston real estate values, Houston real estate, Houston realtors, Houston relocation, Houston schools, Houston single family homes, Houston sold home prices, Houston sold homes, Houston subdivisions, Houston town homes, Houston heights real estate housing market homes for sale buying selling inner loop properties Houston Texas TX OPEN Houses 1545 Heights Boulevard, Houston, TX 77008 77007 77009 Houston heights realtor Woodland Heights Norhill Sunset Heights HISD Hogg Middle School IB Program Harvard Elementary Hamilton Middle School Reagan High School