To create a strong, resilient, 21st century city—as Carol Coletta explained in a lecture at the Kinder Institute Forum—it's important to embrace our Civic Commons, the urban space we share on a daily basis.
2018 certainly brought plenty of changes to the city of Houston. If you are a Houston Heights resident like me, you may have seen my ad and article on the year of changes we experienced in this neighborhood alone—all of which really call now more than ever for a knowledgeable, experienced realtor. Having lived here for over 20 years, I have enjoyed seeing so many of the positive changes, like the dining options that continue to grow and which I add to my ongoing list. There are always going to be the occasional bittersweet turn of events though. As one example, one of my favorite local haunts, Obsidian Theater, is moving from its longtime home at 3522 White Oak to MATCH theater due in large part to the rent increase in their White Oak space.

This got me thinking about how rising property values don't really impact everyone equally, which in turn, brought my mind back to Carol Coletta's lecture at the Kinder Institute Forum a few months ago. Carol Coletta is a researcher and author on urban sociology who specializes in a concept she calls the "Civic Commons," which is the urban space that we all share on a day-to-day basis. Coletta tends to believe that those spaces are diminishing at an unfortunate rate, and I have to agree. She opened with a poignant quote, "You can't feel them if you can't see them."

Coletta's talk led me to ponder what I like so much about White Oak between Yale and Studewood. It is one of the most walkable stretches of the city. On a given Obsidian show night, I could get on the list at Coltivare, see my show, and grab a gelato from Gelazzi afterward. That is such a rare opportunity, and it got me out to see faces I might not otherwise have seen. These days, the Heights is not as diverse as some other Houston communities, but I do think there is enormous value to getting out and seeing both your neighbors and your neighborhood's visitors. Walking down this stretch of White Oak (which, in case you didn't know, is what 6th Street becomes), you'd also see who is patronizing Better Luck Tomorrow, the wonderfully unique neighborhood bar that happens to have James Beard award-winning cuisine, a more laid-back group at Onion Creek Coffee Shop & Bar, some hungry Houstonians at the taco truck next to mainstay Charlie's Liquor, those enjoying the Vietnamese influence at Pho Binh, and the younger (dare I say rowdier, sports-minded) crowd at Christian's Tailgate, just to name a few. This is truly a vibrant slice of the neighborhood. But why is it so important, outside of simply having a great neighborhood?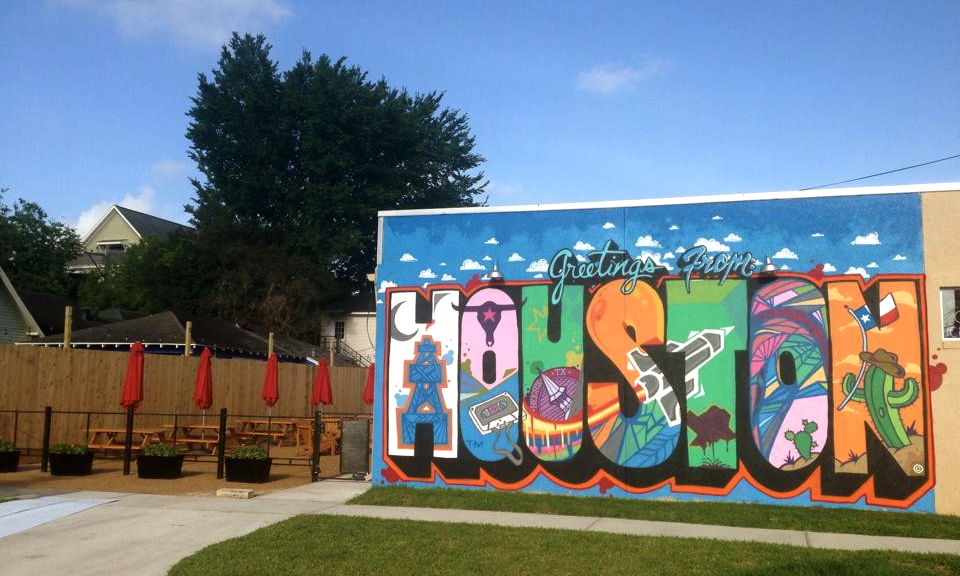 Gelazzi, and the glorious Houston mural that adorns the side of this beloved gelato shop
Well, Carol Coletta's data shows that Houstonians taken as a whole are less trusting than the average American, and if I had to venture a guess as to why, I would say because of our sheer size. While we certainly aren't the biggest city population-wise, when you couple our population with our sprawl across not only our 600-something square miles of Houston proper, but the surrounding metro area as well, it genuinely is hard to recapture some sense of shared identity about who is/what makes a Houstonian. This isn't just a Houston problem, as Coletta points out, "The number of people who agree with the statement that 'you can trust most people in america' has dropped from the majority to about 1/3." That is why I think these public spaces are so important.
While retail and restaurants are wonderful forms of public space (which reminds me of another factoid Coletta mentioned: 2017 was the 1st year out of home food consumption exceeded in home food consumption. Wow!), they do tend to keep us separated along class lines. Today, over 1/3 of people live in either an "all rich" or "all poor" neighborhood and the number of people who live in neighborhoods where at least 40% are poor has doubled since 2000. World cities, cities for tomorrow, and economic powerhouses can't truly thrive as long as we are separated between the haves and have nots (look out for my next blog post where Mayor Sylvester Turner talks about just that). After all, Detroit used to be Silicon Valley, but without socioeconomic diversity it was found in terrible blight after major destruction. Strong cities must be resilient cities.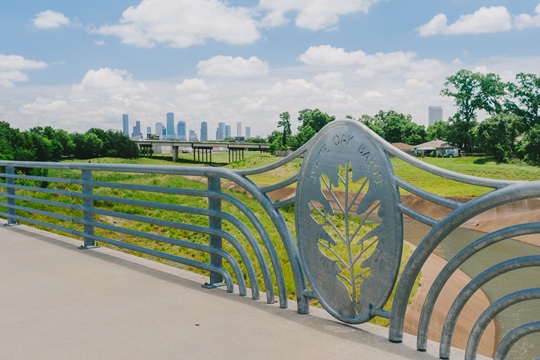 Coletta applauded the scale of our Bayou Greenways 2020 project
So what is the solution? Well, I am proud to say that we are really on the right track in Houston. Coletta celebrated our Bayou Greenways 2020 as an incredible attempt to create robust civic space, and she applauded the scale of it as something you don't see in most cities. There is still more work to do though. As she puts it, "Houston is on a good path, but our success is not guaranteed."
The 21st century city must be developed in a way that compels us to feel our neighbors because it will be built with trust, empathy and equity. Because without feeling there isn't connection. How can I help you get more connected in 2019?
Buying or selling a home or just want to know more about the Civic Commons? Give me a call at 713.829.3052 or email me at cynthia@cynthiamullins.com.
……………………………………………………………………………………………………………………………………………………
Houston condominiums, Houston high-rises, Houston home builders, Houston home prices, Houston home rentals, Houston home value, Houston homes, Houston homes for rent, Houston homes for sale, Houston house, Houston house value, Houston houses, Houston housing, Houston listings, Houston MLS, Houston neighborhoods, Houston new homes, Houston properties, Houston property, Houston real estate, Houston real estate agents, Houston real estate associates, Houston real estate brokers, Houston real estate companies, Houston real estate firms, Houston real estate information, Houston real estate listings, Houston real estate market, Houston real estate schools, Houston real estate service providers, Houston real estate solds, Houston real estate values, Houston real estate, Houston realtors, Houston relocation, Houston schools, Houston single family homes, Houston sold home prices, Houston sold homes, Houston subdivisions, Houston town homes, Houston heights real estate housing market homes for sale buying selling inner loop properties Houston Texas TX OPEN Houses 1545 Heights Boulevard, Houston, TX 77008 77007 77009 Houston heights realtor Woodland Heights Norhill Sunset Heights HISD Hogg Middle School IB Program Harvard Elementary Hamilton Middle School Reaga