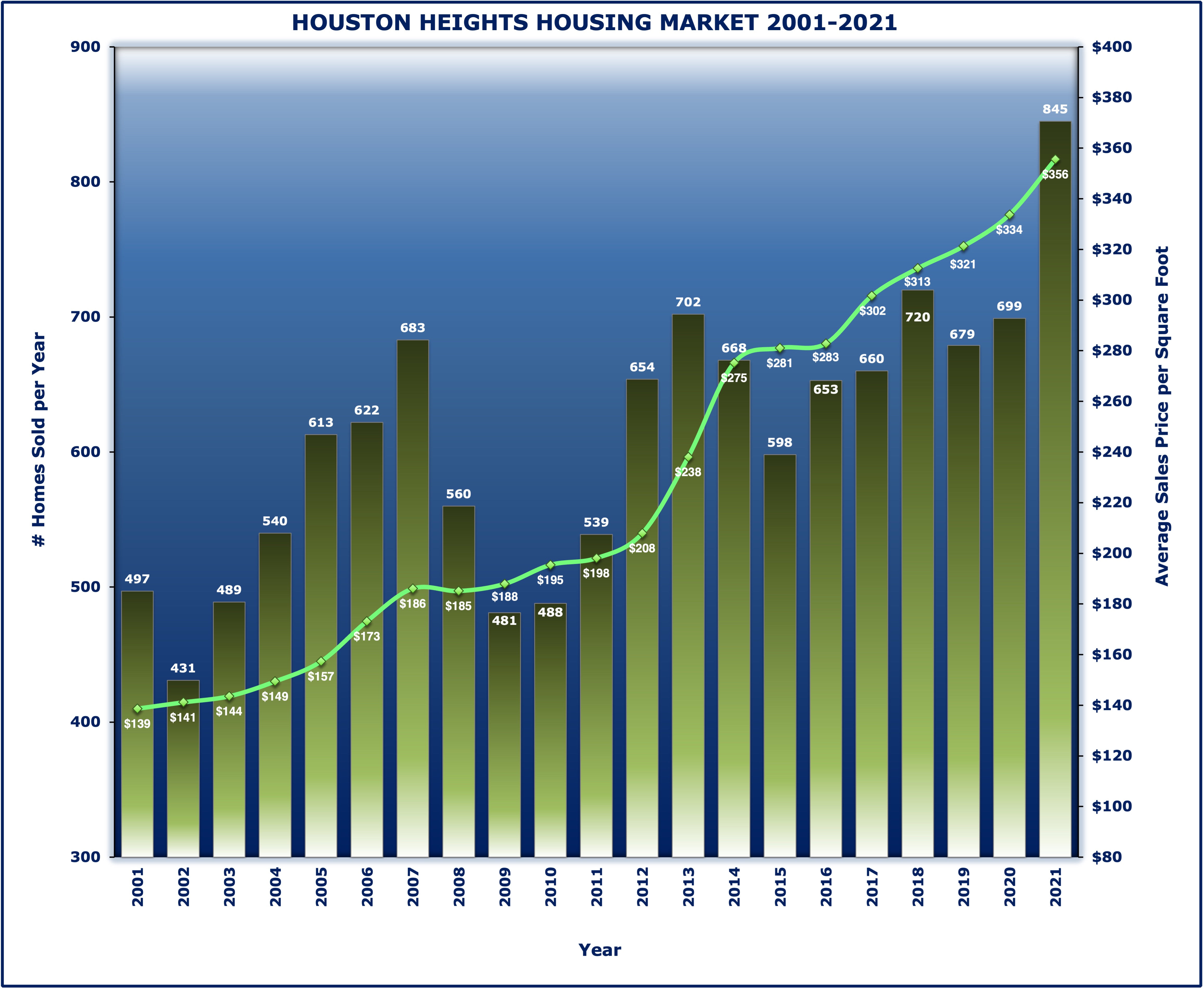 After two years in a truly unprecedented seller's market, the Houston housing market has finally started balancing.
As the general housing market slowly begins to shift, I thought now was a good time to give an update on where the Houston Heights housing market stands.

For over 20 years, I've been tracking stats for the Houston Heights housing market (using data from HAR.com) and last year was the best year in Heights real estate by far. The number of single-family homes sold last year shattered the previous record set in 2018 (845 homes vs. 720 homes) and the average price per square foot topped the previous record set in 2020 ($356 vs. $334). In 2022 through July 15, home sales are slightly lower than through the same period in 2021 (410 homes compared to 460 homes), but the average sales price continues to increase ($392.37/sq. ft. vs. $350.60/sq. ft.).

It's important to recognize that the lower number of homes sold should not be seen as a market downturn. The market is still quite strong and that is definitely a robust number of sales for just over half the year. It's just that we are comparing to an exceptionally good year. A number of factors (including interest rate hikes and the fact that many buyers have already changed homes to satisfy their different housing needs due to Covid) have contributed to what will likely be a lower number of sales at year's end, but the lack of inventory is the driving force. In terms of price increases, we will likely see flattening in the coming months, but probably not a decrease. For a historical reference point…during the 2008 recession—when lenders stopped issuing jumbo loans, second mortgages, and thus conventional loan limits were maxed out at $417,000—the number of Heights home sales decreased for 2 years, but prices did not fall.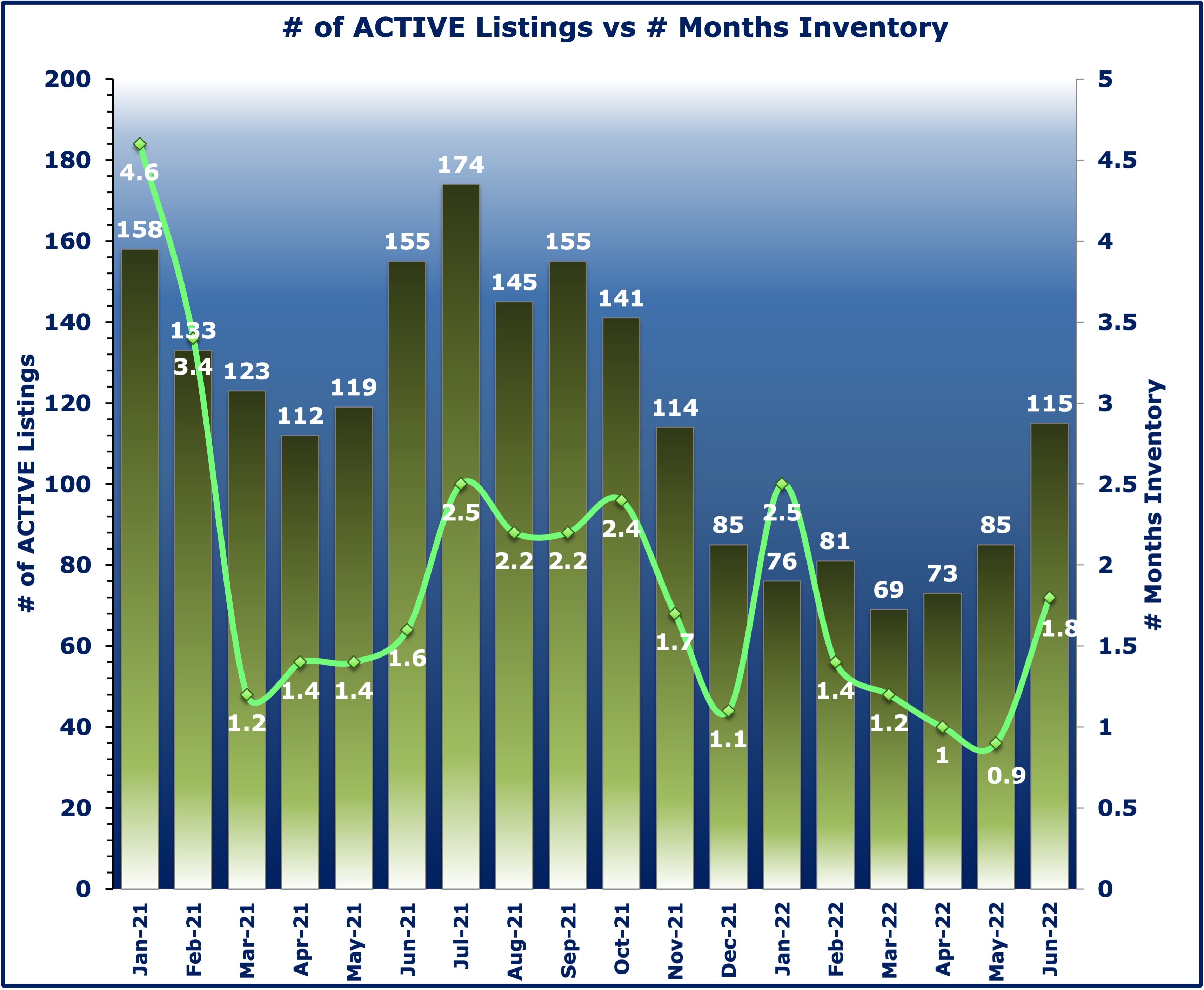 The main issue with our market here in the Heights—much like across Houston and the country as a whole—is our lack of inventory. 6 months of inventory is considered to be a balanced market (over 6 = buyer's market; under 6 = seller's market) and the Heights has only reached that mark once in the past 5 years. Months inventory through the first half of this year compared to 2021 (month over month) is less and the number of active listings halfway through the year has been 30 to 50 percent less than the same months last year. Managing to sell so many homes with such limited inventory is impressive, but inventory needs to increase to achieve a more balanced market.
The recent market changes will hopefully bring some relief to buyers struggling through several multiple offer situations. It's tough to find your dream home and lose out to numerous other contenders and even tougher to do it over and over again. As the market starts to balance some, sellers need to be ready to negotiate or make some updates to their home in order to sell in a timely manner. In this shifting real estate market, having an experienced Realtor by your side is vital, so if you're thinking about buying or selling, don't hesitate to reach out!
Have questions about the market? Give me a call at 713.829.3052 or email me at
cynthia@cynthiamullins.com
.
……………………………………………………………………………………………………………………………………………………
Houston condominiums, Houston high-rises, Houston home builders, Houston home prices, Houston home rentals, Houston home value, Houston homes, Houston homes for rent, Houston homes for sale, Houston house, Houston house value, Houston houses, Houston housing, Houston listings, Houston MLS, Houston neighborhoods, Houston new homes, Houston properties, Houston property, Houston real estate, Houston real estate agents, Houston real estate associates, Houston real estate brokers, Houston real estate companies, Houston real estate firms, Houston real estate information, Houston real estate listings, Houston real estate market, Houston real estate schools, Houston real estate service providers, Houston real estate solds, Houston real estate values, Houston real estate, Houston realtors, Houston relocation, Houston schools, Houston single family homes, Houston sold home prices, Houston sold homes, Houston subdivisions, Houston town homes, Houston heights real estate housing market homes for sale buying selling inner loop properties Houston Texas TX OPEN Houses 1545 Heights Boulevard, Houston, TX 77008 77007 77009 Houston heights realtor Woodland Heights Norhill Sunset Heights HISD Hogg Middle School IB Program Harvard Elementary Hamilton Middle School Reaga