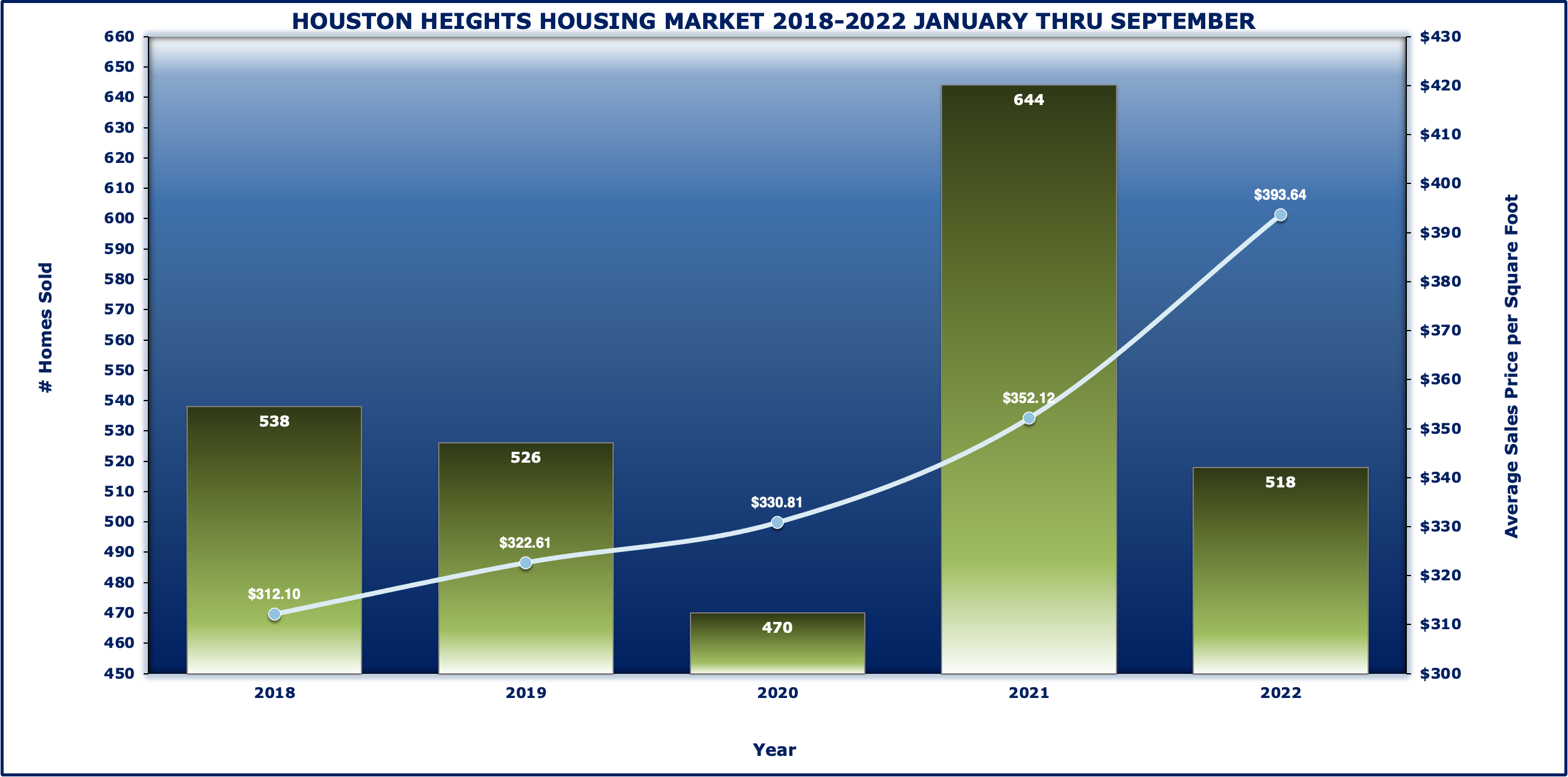 With our market finally slowing down a bit after being extraordinarily strong for the better part of two years, some of my clients have expressed concerns that we're in a bubble and it's about to burst. I'm here to tell you not to worry!
I am confident the Houston market (and more specifically, the Heights) is not in a bubble. Many will be understandably wary after the subprime mortgage crisis of the late aughts, but today's market is much different. This is a market that is slowly balancing, rather than one headed for a crash.
Looking at Houston Heights housing stats through the first three quarters of 2022, we see many indicators of a balancing market, as opposed to one falling apart. When taking into account the year-to-date sales numbers (January through September) for 2022, it's important to compare them to a normal year. 2021 was an unprecedented and unsustainable year for home sales and sales at the beginning of 2020 lagged behind because of the pandemic. Thus, 2018 and 2019 are the years we should look to for much more useful comparisons. Those YTD sales were only slightly higher (538 and 526, respectively) than the 2022 YTD sales (518).
While Heights sales are down some, prices are not. In fact, September marked the first time in the history of the Heights that the average sales price for a month passed over the $1 million mark, coming in at $1,007,849! Comparing January through September statistics, year-over-year, average sales price per square foot also has risen to an impressive new high of $393.64, up significantly from $352.12 through the same time last year.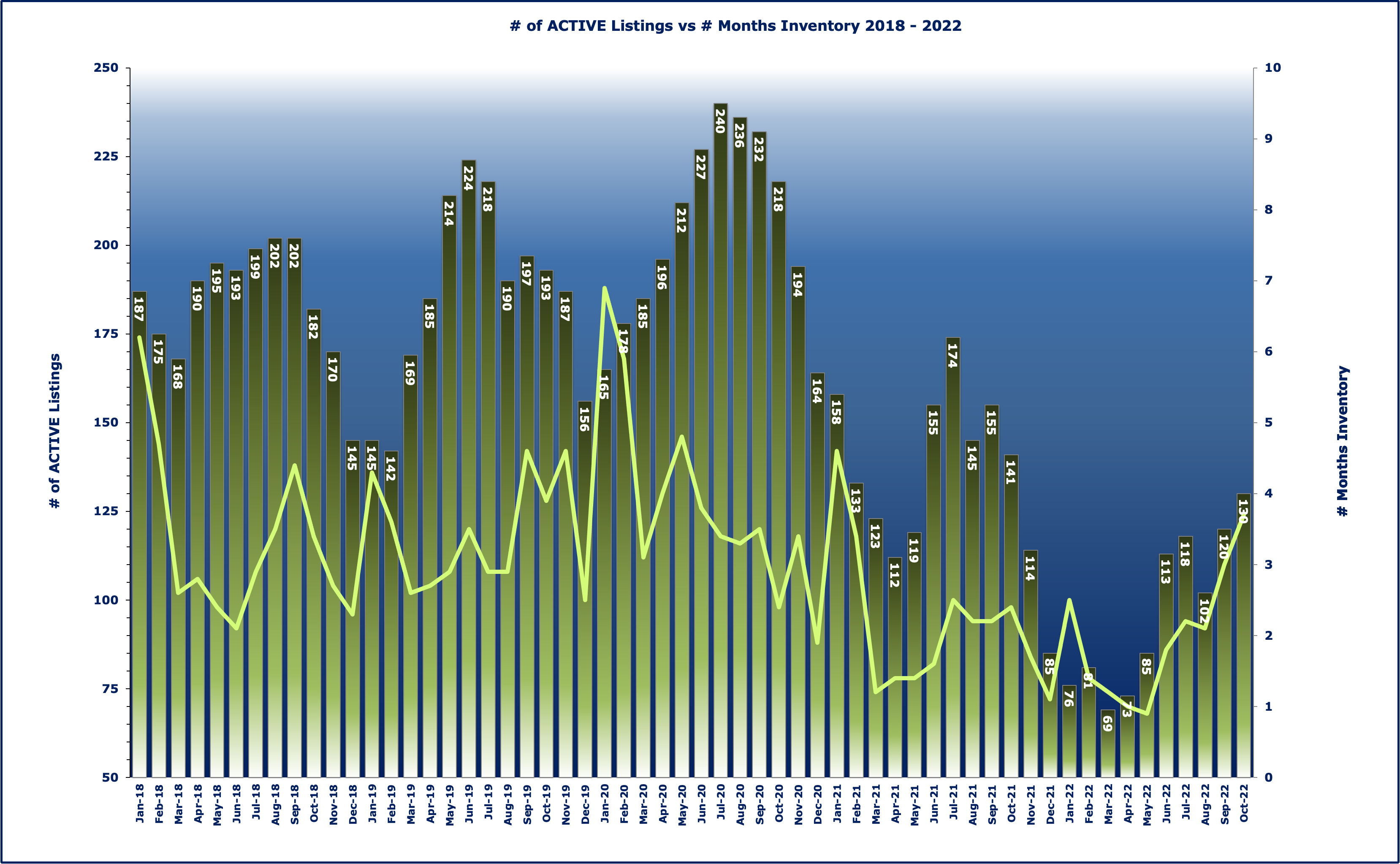 The biggest issue with our market here in the Heights (much like the rest of Houston and the U.S.), is our lack of inventory. Over the past five years, the Heights has only reached 6 months of inventory (an even market) twice. And while that number has increased since May of 2022, it still remains historically low. We will need our inventory to increase in 2023 for our market to continue to balance.
What does all this mean for Heights buyers and sellers as we head into 2023? With inventory historically low (and prices steadily rising), it's still a great time to sell. That being said, 2023 will be a much better time to be a buyer than the frenetic market of the past two years (think fewer bidding wars and fewer offers over list price). And while interest rates are higher than they've been in recent years, buyers shouldn't let those rates scare them off. Rates aren't expected to drop anytime soon, and since home prices should also continue to rise, buyers won't gain anything by waiting for interest rates to fall. It's in your best interest to buy the home you want now and refinance your interest rate later.
Have questions about the market? Give me a call at 713.829.3052 or email me at
cynthia@cynthiamullins.com
.
……………………………………………………………………………………………………………………………………………………
Houston condominiums, Houston high-rises, Houston home builders, Houston home prices, Houston home rentals, Houston home value, Houston homes, Houston homes for rent, Houston homes for sale, Houston house, Houston house value, Houston houses, Houston housing, Houston listings, Houston MLS, Houston neighborhoods, Houston new homes, Houston properties, Houston property, Houston real estate, Houston real estate agents, Houston real estate associates, Houston real estate brokers, Houston real estate companies, Houston real estate firms, Houston real estate information, Houston real estate listings, Houston real estate market, Houston real estate schools, Houston real estate service providers, Houston real estate solds, Houston real estate values, Houston real estate, Houston realtors, Houston relocation, Houston schools, Houston single family homes, Houston sold home prices, Houston sold homes, Houston subdivisions, Houston town homes, Houston heights real estate housing market homes for sale buying selling inner loop properties Houston Texas TX OPEN Houses 1545 Heights Boulevard, Houston, TX 77008 77007 77009 Houston heights realtor Woodland Heights Norhill Sunset Heights HISD Hogg Middle School IB Program Harvard Elementary Hamilton Middle School Reaga